You need rain gutter repair when your gutters are sagging, leaking or otherwise not doing their job. Your Utah home is at risk when water doesn't drain properly, and rain gutter repair helps prevent water damage.
Wizard Rain Gutters specializes in comprehensive rain gutter repair and we're on a mission to make your water drainage system look good and work well. It's essential to keeping your home dry and could help you avoid costly damage.
When Your Gutters Aren't Draining, Get Them Repaired!
One of the top reasons your gutters aren't draining correctly is because they're clogged. When debris isn't cleared out immediately, it disintegrates into a thick, black substance that blocks the flow of water. This substance also eats away at the lining of the gutter. Before you know it, water is pouring over the edges or leaking out the bottom of your system.
It's no wonder your gutter contractor talks about regular gutter cleaning all the time! Clogs are one of the main causes of gutter problems.

Gutter Installation Pitfalls
Another cause of water drainage problems is shoddy installation work. If the seams weren't properly bonded, the gutters will begin to leak over time. If there weren't enough hangers installed, the channels won't be supported and could start to sag under the weight of standing water. Coupled with a load of debris, it's too much for your gutters to handle.
Also, your gutters could be too small for your home. If you find yourself constantly calling for rain gutter repair, ask us what we can do to replace key sections so overflow and sagging are no longer a major concern.
How Our Rain Gutter Repair Helps Utah Homeowners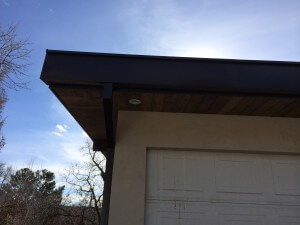 We want your gutters to be in good working order. We patch holes and re-attach hangers as needed. Wizard Rain Gutters seals seams and makes sure downspouts are sturdily connected. We can also redirect downspouts to better guide runoff away from your home's foundation.
There are plenty of ways to resolve water drainage issues, but it starts with you: Call us now if you notice a problem.
Fix Your Rain Gutters Quick — Before the Next Big Storm!
Issues with your gutters might not be at the top of your fix-it list, but you can put it at the top of ours. You have plenty of chores you need to take care of at home, and you only have so much time on the weekend. Don't put off water drainage system repair and don't try to take it on yourself — just call Wizard Rain Gutters. It's what we are here for!