Tired of climbing a ladder to clean out your rain gutters and downspouts from leaf clogs? Wizard Rain Gutters has your solution!
Real Gutter Cover – Good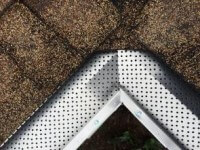 The Real Gutter Cover is our most affordable leaf protection system and offers good coverage for all rain gutters and downspouts. Reytek Manufacturing has designed the Real Gutter Cover to sit on top of the gutter with small holes for water to pass through stopping debris on top to blow off with the wind.
Raindrop Gutter Guards – Best

A gutter system is not complete without a gutter guard. Gutters are designed to take water away from the home so it does not pool up and ruin your foundation. When gutters become clogged with leaves and debris it can not drain properly.

You can avoid this problem and sleep easy on rainy nights with a Raindrop Gutter Guard System installed on your rain gutters.
Why Choose Raindrop Gutter Guard?

Everything about the Raindrop Gutter Guard is essential in it's

 goal to provide a maintenance free & self-cleaning gutter protection system, it is far more advanced than anything on the market today. Raindrop provides gutter protection like no other gutter guard available.