Rain gutter repair can extend the life of your gutter system, ensuring you get the most for your money.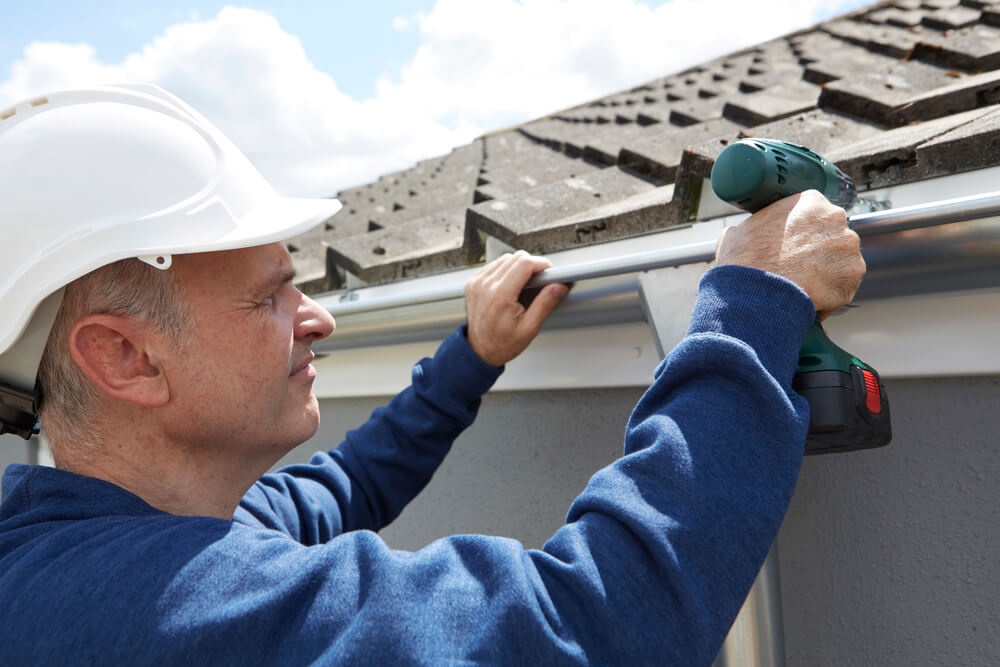 Timely repairs can mean the difference between thousands of dollars in water damage and a protected, dry home. Gutters may not attract much attention when you're thinking about home maintenance needs, but taking care of small issues can help prevent a larger drainage problem down the road.
Here are four signs you should make an appointment for professional rain gutter repair:
The Gutters Are Leaking
Gutters can develop holes from sharp branches. Rust also can eat away at certain areas and cause leaks. Caulk can erode, joints can loosen and water can escape that way as well. When you have leaks, you need rain gutter repair.
A gutter professional will use a special sealing agent to plug the hole. He or she also may use metal flashing to patch the area, depending on the size and location of the leak. Leaking gutters can cause window and door frames to rot and exterior paint to peel, so they should be addressed right away.
The Gutters Are Pulling Away from the House
Gutters are attached to gutter hangers which are secured to the fascia boards at the base of your home's roof. When the hangers become unfastened, the gutters may sag or dip. When they're not positioned correctly, water flows down the side of the building instead of draining through the gutter system. Water also can pool in the centers of the gutters, making them sag even more.
You must hire a professional to repair the hangers and replace any rotting fascia boards to keep your gutters working efficiently.
The Downspouts Are Ineffective
If water is pooling around your foundation after a rainstorm, your downspouts are probably to blame. If downspouts are not long enough and aren't angled correctly, water will run toward the base of your home. This can lead to soil erosion, flooding and mold. Get the downspouts repaired or adjusted and you will easily prevent this from happening.
The Downspout Comes Loose
Sometimes the downspouts come loose at the joint where they meet the upper gutters. This is usually because they are full of debris and must be cleaned. Once all the leaves and sticks are removed, the downspouts will need to be securely reattached to the upper gutters and to the side of the home.
At Wizard Screens and Gutters, your water drainage system's functionality is our top priority. Call us for effective, affordable rain gutter repair so your home can handle the next rainstorm without an issue.