A security screen door excels where traditional screen doors fall short.
You want to open your doors and let in the breezy, beautiful spring air without worrying about intruders. You want to let in natural light, but keep out strangers. A security screen door is your best option.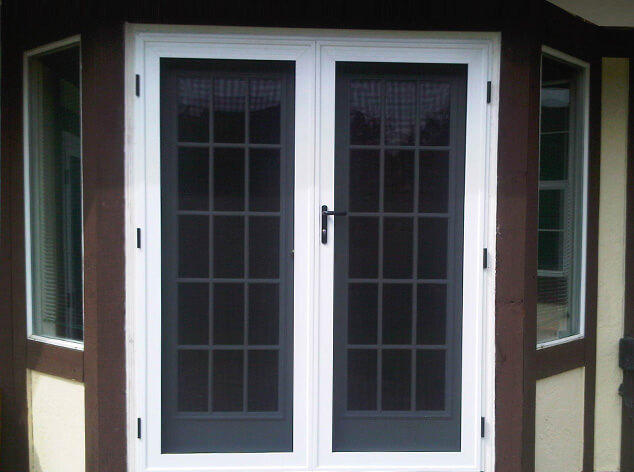 Feel the Breeze without a Threat
A quality-built, high-strength, aluminum security screen door lets you ventilate your home naturally, without worrying about intruders. From the heavy-duty tracks, hinges and rollers to the multi-point locking system, it's virtually impossible for anyone to get in.
Even if you live in the safest part of your town, wouldn't it be a weight off your mind to know your home is fully protected, even with the front door wide open?
The Screen Is Unbelievably Strong
The screen is radically different than a traditional doors. It's made of sturdy, stainless steel mesh. Not only is the mesh corrosion-resistant and marine grade, meaning it can stand up to any weather, it's also nearly impossible to kick or cut through it. Unlike other doors, where the screen is easily sliced or pushed in, your screen is just as secure as the rest of the resilient frame.
You Have Increased Privacy
A thicker, denser screen means you'll have more privacy. It's harder for outsiders to look through stainless steel mesh — it appears almost mirror-like. Even though you'll get all the natural light and fresh air you need, no one will be able to peer into your home easily.
Add to Home Value
Home security measures drive up the property value in the eyes of prospective buyers. They will look at your security door and feel the same sense of peace that you do — you're free to enjoy the outdoors without worrying about someone coming in. It's a definite selling point, so your purchase may pay off in the future.
Enjoy Traditional Benefits with Unconventional Protection
All the reasons you love your traditional screen door don't disappear with the installation of a security screen door — they're simply enhanced. You can still save money and keep the air conditioning and floor lamps off. You can still keep bugs out and your pets and kids in. In fact, rambunctious pups won't be able to claw their way out — that stainless steel mesh will come to the rescue.
Are you sold? We offer attractive styles and the superior quality you're looking for. Upgrade to a security screen door today — call Wizard Screens and Gutter for a free quote.