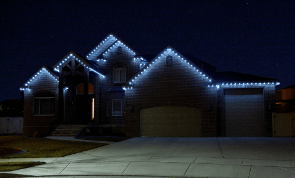 With our permanent Trimlight Select lighting installation, you will no longer need to put up and take down your holiday lights year after year! Christmas and accent lighting can be used year round for any occasion. We install Trimlight Select lighting, a patent pending lighting technology that allows home and business owners the ability to have a permanent lighting system.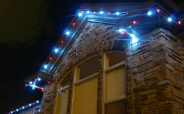 The channel system used for the install hides the wiring and conceals the bulbs within the channels keeping them out of view. The channel is constructed from 100% high quality recyclable aluminum that comes in a variety of colors for the best match on your home and/or business.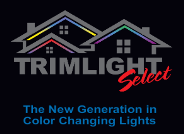 Trimlight's Select System LED bulbs outperforms incandescent bulbs far longer and use only a fraction of the energy to operate with multiple functions and different color settings. The LED bulbs have the ability to allow for different colors with just the push of a button. Now you can select any pattern of colors imaginable, you can show off your favorite teams colors for the big game! You can set them to flashing or gradually changing from the comfort of your living room couch. Professional installation ensures the overall quality and function of the Trimlight System.
Lights are spaced evenly and secured in place
Components and wiring are permanently hidden
Attaches simply to the fascia of most homes & businesses.
Edges are rounded for handling and safety
Made from high quality aluminum and coated twice with UV resistant primer and a topcoat of Low-Mar finish
Remote control operated settings for colors, flashing and gradually changing patterns.
Give us a call today to schedule a free consultation, measurement, and estimate on your install.